Sketch Book | Peking Opera Embroidery {Pear Garden}
Designer: Paperblanks
During the Tang Dynasty (618–907), the Emperor Taizong founded an opera school called Liyuan (Pear Garden). Chinese opera reached its pinnacle under the Qing court (1644–1911), giving birth to what is known as Peking Opera. Reproduced here is a piece of beautifully embroidered opera skirt from that era.
SIZE

Width: 180mm (7")




Height: 230mm (9")




Depth: 22mm (¾")

INTERIOR
Unlined
PAGE COUNT
144 Pages
CLOSURE
Wrap
COLOUR
Multi-colour
GSM (PAPER WEIGHT)
120
COVER
Hardcover
EDGE PRINTING
BINDING TYPE
POUCH TYPE
INTERIOR PAPER

Custom-Designed Laid Paper

RIBBON MARKERS
MORE FEATURES

100% recycled binder boards
Decorative printed cover paper
FSC-certified text paper
Threaded stitching and glue, as needed
Acid-free sustainable forest paper
Original Art:

Chinese opera costume

Era:

Late 19th century

Region:

ChinA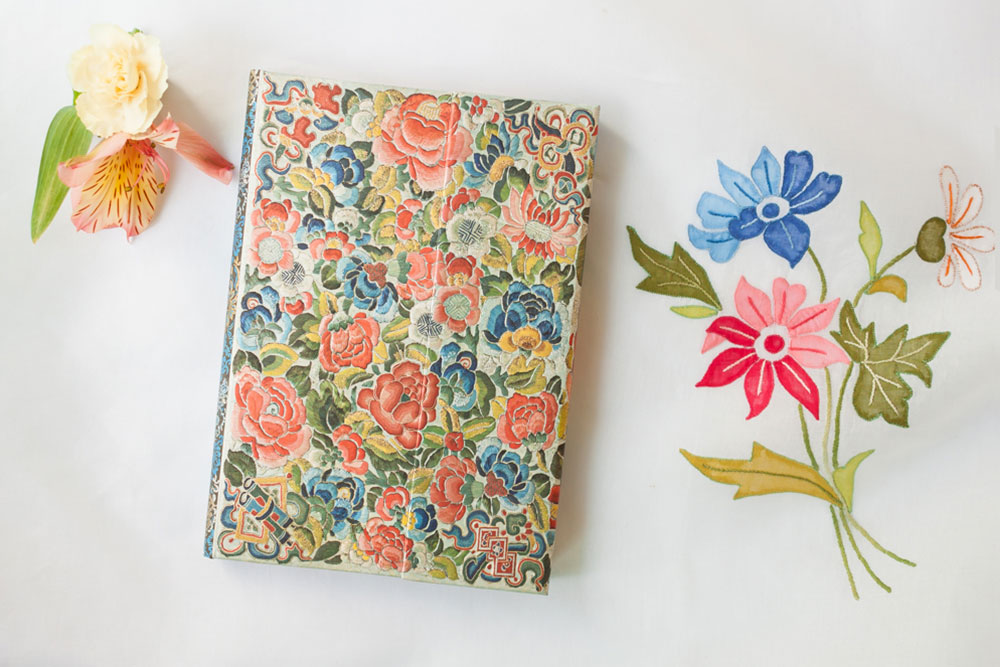 When one thinks of opera, the mind usually goes to Italy, the birthplace of famed productions such as La Bohème, Rigoletto, Tosca and The Barber of Seville. But one of the oldest versions of this dramatic art tradition is actually Chinese opera, which traces its roots to the earliest periods of ancient China.
Chinese opera began with theatre performers telling simplistic folk stories, but by the time of the Tang Dynasty (618–907) it had reached such cultural heights that the Emperor Taizong established an official opera school. The academy was known by the poetic name Liyuan (Pear Garden), and from that point forward performers of Chinese opera were referred to as "disciples of the pear garden."
The 18th and 19th centuries witnessed the pinnacle of Chinese drama. Under the patronage of the Qing court (1644–1911) operatic performances filled the "Forbidden City," giving birth to what is known as Peking (or Beijing) Opera. The form was most notable for its restrained use of props and backdrops, which served to highlight the actors' exaggerated gestures, movements, makeup and costumes.
In the early days of Peking Opera, all roles were played by men, even the female characters (known as "Dan" roles). Costumes were used to reflect the identity and personality of the characters and were often used as a replacement for props. It is a piece of beautifully embroidered male opera skirt that we have reproduced for this cover.
Peking Opera remains the best-known type of Chinese opera, as it represents a mingling of various regional styles. It came to be known as the "national theatre" of China by the 20th century before experiencing a sharp decline following the Boxer Rebellion at the turn of the century. The Rebellion saw the capitol's great theatres burned to the ground, and opera, which had been the main form of entertainment for both urban and rural residents, took a back seat during the ensuing years of political and cultural upheaval.
By the 21st century, there were only 162 identifiable forms of Chinese opera left on the country's intangible cultural heritage list, down from more than 350 in 1957. It is the older generation that continues to uphold this tradition, listening to opera recordings when live performances are not available. By reproducing this delicate and colourfully embroidered piece of opera costume, we hope to share a piece of the rich history of Peking Opera and help tell of the role that Chinese composers and performers have played in developing opera as we know it today.